April 2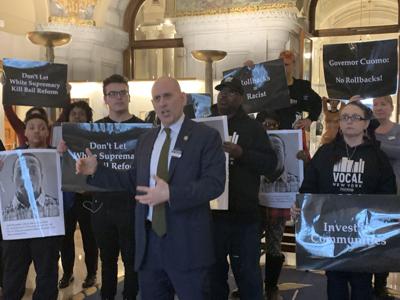 ALBANY — After days of deliberations, lawmakers passed the state's executive budget Thursday, including rollbacks to New York's controversial bail reform law, about a day after the April 1 deadline.
The initial $178 billion executive budget, which started with a $6 billion gap, is looking at a 13% to 15% deficit between $10 billion and $15 billion because of increased spending on the COVID-19 pandemic, losses from the stock market and the anticipated plunge in sales tax revenue as the pandemic continues. The state's second Medicaid Redesign Team voted on billions in proposed Medicaid cuts to eligibility, service levels and more March 18, which included provisions that would slash millions of dollars to hospitals across the state.
Senate Majority Leader Andrea Stewart-Cousins, D-Yonkers, and Assembly Speaker Carl Heastie, D-Bronx, briefed their members on the tentative deal Wednesday. Voting continued well into the night Wednesday and resumed Thursday. Few lawmakers were physically present because of COVID-19, with most legislators voting remotely to conform with social distancing guidelines.
"We can all agree that the budget that we're passing is not the budget that any of us hoped to pass," Stewart-Cousins said from the Senate floor Thursday afternoon. "This was not a normal budget.
"These numbers are even beyond chilling and upsetting," she added. "These numbers are painful."
Gov. Andrew Cuomo and legislative leaders struck a tentative agreement Thursday that adds a number of misdemeanor and felony crimes to the list of those subject to a cash bail order, which allows a judge to keep a defendant in jail while awaiting trial unless they pay a certain amount in cash or bond.
More than a dozen crimes would again be eligible for cash bail, according to the legislation, including: Any crime alleged to have caused a death, sex trafficking, promoting an obscene sexual performance by a child, first-degree grand larceny, failure to register as a third-degree sex offender, second-degree burglary if someone enters the living area of a home, escape from custody, money laundering in support of terrorism, criminal obstruction of breathing or strangulation and third-degree assault and arson as hate crimes, among others.
The measure would allow for cash bail for repeat arrests in some cases, including someone arrested for a felony while on probation or parole.
Cuomo first proposed bail reform in his 2019 agenda. Republicans legislators have traditionally pushed for a full repeal of the law, while some Democrats expressed openness to exploring tweaks. Other lawmakers have rallied against bail reform rollbacks, saying one year was not long enough for the law to have an impact, and rollbacks would negatively impact impoverished or communities of color the law was set to assist.
"This pandemic changes everything," Stewart-Cousins said Thursday. "We respect the rights of people who are accused of a crime. I think everybody's thinking about what it means to have your freedom and to be in situations that are safe. So I think this whole idea of mass incarceration is gone."
Assemblyman Harvey Epstein, D-74, was one of several lawmakers to attend one of the last in-person rallies at the Capitol on March 10 against bail reform amendments before the COVID-19 pandemic swept the state and nation.
"Unfortunately, this means thousands of New Yorkers will be incarcerated pretrial, which means families will be subject to COVID-19 because their families will be stuck in Riker's [Island]," Epstein said Thursday afternoon. "It means those people who get released three to five days into their stay at Riker's will get to go home and risk exposing their families. This is not the time to do rollbacks on bail. This is not the time to put New Yorkers at risk. I'm sorry this happened in the budget. I must vote against this budget because it's terrible for New Yorkers and it's terrible for us."
The measure goes into effect in 90 days.
"While there are additional crimes that are bail eligible…it doesn't necessarily mean it will translate into more people," Cuomo's secretary Melissa DeRosa said during a press conference Thursday in the state Capitol.
Under the scaled back law, 115 crimes that are not bail eligible are eligible for alternatives such as treatment or monitoring with a heavy emphasis on alternatives to incarceration, DeRosa said.
Cuomo first outlined the state's 2020-21 fiscal year spending plan in January with a long list of robust proposals, including the legalization of recreational marijuana and paid gestational surrogacy.
Paid gestational surrogacy was included in the state budget. Legal weed was not.
The budget also authorizes Cuomo's office to withhold certain state aid payments to local governments if the coronavirus hurts tax revenue worse than expected, holds education aid for school districts flat from the previous year, legalizes e-bikes and e-scooters with certain restrictions, proposes a $3 billion environmental bond act, which will require voter approval and bans Styrofoam food containers beginning in 2022.
The state's budget stalemate contributed to a payroll glitch that delayed paychecks slated for about half of the state's workforce Wednesday, angering workers who were expecting their pay. The pay delay applied to about 120,000 state workers classified as "administration," which includes workers at most state agencies, legislative staffers and the court system.
For some of those employees, the final day of the pay period was Wednesday — the first day of the fiscal year — which meant state Comptroller Thomas DiNapoli's office didn't have authorization to pay employees. As a result, the entire administration payroll was delayed until Thursday.
The state Legislature adjourned indefinitely Thursday after finishing passing budget bills, and will reconvene at a later date, depending on the COVID-19 pandemic.
Source: https://www.nny360.com/communitynews/healthmatters/state-budget-passes-bail-reform-rolled-back/article_63b28bce-3981-5085-a274-72d3e841e64a.html